NEW
Thru-Bulkhead Threaded Tube
TruDesign Thru-Bulkhead Threaded Tubes are moulded from a glass-reinforced nylon composite. High strength, high-modulus glass fibres within the nylon composite provides dramatic strength, stiffness, toughness, and dimensional stability.
TruDesign fittings eliminate the corrosion and electrical bonding problems associated with metallic fittings.
Designed to be used in conjunction with our range of threaded female fittings, the Threaded Tubes provide a simple and tidy solution for passing plumbing through the bulkhead of your boat.
Features
Manufactured from glass-reinforced nylon composite - High strength and light weight
Immune to corrosion and electrolysis - Long life with no concerns over decreased performance due to corrosion
Chemical resistant - Unaffected by diesel, petrol, or chemicals
UV resistant - Will not degrade or discolour with ultraviolet light from the sun
High quality surface finish - Will not discolour with green film as similar bronze fittings do
BSP (Parallel) threads - Universal compatibility to TruDesign threaded fittings, and other marine components
Large operating temperature range - Suitable for all marine environments, from -20°C to +100°C
Frequently Asked Questions
Models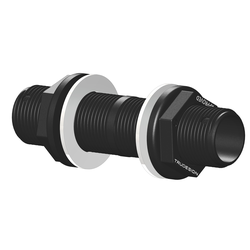 Thru Bulkhead Threaded Tube
91097
Tube Threaded 1" BSP
Thru Bulkhead Threaded Tube
91098
Tube Threaded 1½" BSP