Tail Female Straight
TruDesign Tail Female Straight connectors are moulded from a glass-reinforced nylon composite. High strength, high-modulus glass fibres within the nylon composite provides dramatic strength, stiffness, toughness, and dimensional stability.
TruDesign fittings eliminate the corrosion and electrical bonding problems associated with metallic fittings. Tail (Hose barb) fittings are designed for twin hose clamps and to never crush.
Features
Manufactured from glass-reinforced nylon composite - High strength and light weight
Immune to corrosion and electrolysis - Long life with no concerns over decreased performance due to corrosion
Chemical resistant - Unaffected by diesel, petrol, or chemicals
UV resistant - Will not degrade or discolour with ultraviolet light from the sun
High quality surface finish - Will not discolour with green film as similar bronze fittings do
BSP and NPS (Parallel) threads - Universal compatibility to TruDesign threaded fittings, and other marine components
Large operating temperature range - Suitable for all marine environments, from -40°C to +110°C
Frequently Asked Questions
Models
Tail Female Straight
90953
Tail 19mm ¾" BSP Female Thread
Tail Female Straight
90954
Tail 25mm 1" BSP Female Thread
Tail Female Straight
90955
Tail 32mm 1¼" BSP Female Thread
Tail Female Straight
90956
Tail 38mm 1½" BSP Female Thread
Tail Female Straight
90957
Tail 50mm 2" BSP Female Thread
Tail Female Straight
90958
Tail Unequal 38mm 1¾" BSP Female Thread
Tail Female Straight
90959
Tail Unequal 25mm 1½" BSP Female Thread
Tail Female Straight
90960
Tail 22mm Unequal ¾" BSP Female Thread
Tail Female Straight
90961
Tail 28mm Unequal 1" BSP Female Thread
Tail Female Straight
90962
Tail Unequal 38mm 1¼" BSP Female Thread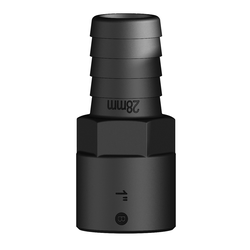 Tail Female Straight
91180
Tail 28mm Unequal 1" NPS Female Thread
Tail Female Straight
91250
Tail 19mm ¾" NPS Female Thread
Tail Female Straight
91252
Tail 25mm 1" NPS Female Thread
Tail Female Straight
91254
Tail 32mm 1¼" NPS Female Thread
Tail Female Straight
91260
Tail 38mm 1½" NPS Female Thread
Tail Female Straight
91262
Tail 50mm 2" NPS Female Thread
Tail Female Straight
91264
Tail 22mm Unequal ¾" NPS Female Thread
Tail Female Straight
91266
Tail 25mm 1½" NPS Female Thread
Tail Female Straight
91268
Tail 38mm 1¼" NPS Female Thread