Marine PowerSpray Nozzle
The Marine PowerSpray's adjustable valve allows the user to select a spray pattern that suits the particular application, from a powerful jet to a fine spray. When dropped or released the nozzle automatically shuts off reducing water usage.
The Marine PowerSpray is designed for operation in the harsh marine environment. The strong Nylon 6 body and handle is designed to withstand the knocks as well as the salt and UV exposure encountered in marine applications. With the only metallic component being an internal stainless steel spring, corrosion problems are eliminated.
Features
Adjustable spray pattern - Versatile usage for wash down or filling applications
Nylon 6 Body - High strength and light weight
Immune to corrosion and electrolysis - No decreased performance due to corrosion
Chemical resistant - Impervious to diesel, petrol and antifouling paints
UV resistant - Will not break down with ultraviolet light or discolour from the sun
¾" Thread - Easy connection to other fittings
Auto shutoff - Won't continue to use water if dropped
Frequently Asked Questions
Models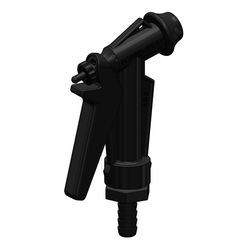 Marine Power Spray Nozzle
90381
Marine PowerSpray